Phuket is one of the few provinces where we can see most of people are wearing in white during the Vegetarian festival. This year the festival falls into October 8-16, 2010. Year after year, there are more and more participants join this festival. Those including not Phuket-born and non-Chinese Phuketians.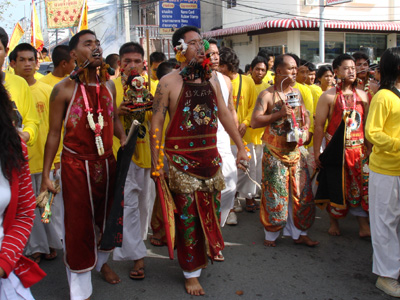 Nowhere in Thailand is the vegetarian festival more colorful, exciting, and memorable than in Phuket. The origins of this Thailand festival itself can be traced to Chinese immigrants in Phuket. In the early 1800?s, Phuket was a major center of trade between China, India, and Southeast Asia. A large number of Chinese immigrants worked in tin mines and on rubber plantations. In 1825, a traveling Chinese opera visited Phuket to entertain the Chinese immigrants. At this time, the whole town became sick with malaria. The traveling opera paused to observe a strict vegetarian diet and the Chinese Nine Emperor Gods Festival. The traveling opera all recovered from the malaria, even though many people in Phuket died. The people of Phuket were so amazed that they continue to observe this Thai vegetarian festival each year along with the Chinese Nine Emperor Gods Festival.
The Commitments
The festival always falls on the first days of the ninth Chinese lunar month, and for nine days participants observe the following commitments:
Cleanliness of the body during the festival

Clean kitchen utensils not to be used by others who do not participate in the festival

Wear white during the festival

Behave physically and mentally

Avoid eating meat

Avoid sex

Avoid alcohol

People in mourning should not participate

Pregnant women and menstruating women should not attend ceremonies
The Ceremonies
One of the most exciting aspects of the festival is the various, (and sometimes gruesome) ceremonies which are held to invoke the gods. Firewalking, body piercing and other acts of self mortification undertaken by participants acting as mediums of the gods, have become more spectacular and daring as each year goes by. Men and women puncture their cheeks with various items including knives, skewers and other household items. It is believed that the Chinese gods will protect such persons from harm, and little blood or scarring results from such mutilation acts. This is definitely not recommended for the feint hearted to witness.
The vegetarian dishes are not easily distinguished from regular dishes – soybean and protein substitute products are used to replace meat in standard Thai fare and look and taste uncannily like meat. Look for the yellow flags with red Chinese or Thai characters to find vegetarian food stalls – and keep your camera handy!! For more information on dates and events, contact the Tourism Authority of Thailand at +66 (0)7 621 2213.
Phuket Vegetarian Festival 2010  Schedule
October 7, 2010
09.00 A.M. Opening Ceremony Phuket Vegetarian Festival 2010 at Saphanhin
October 9, 2010
07.00 A.M. Street Procession in Phuket Town—-by CHOOR SU GONG NAKA SHRINE
October 10, 2010
07.00 A.M. Street Procession in Phuket Town—-by SAPAM SHRINE
October 11, 2010
07.19 A.M. Street Procession in Phuket Town—-by LIM HU TAI SU SHRINE
October 12, 2010
06.30 A.M. Street Procession in Sapam Village—-by JANG ONG SHRINE
07.15 A.M. Street Procession in Pasak Village and Baan Don Market—-by TAE GUN TAI TAE
07.30 A.M. Street Procession in Phuket Town—-by BAN THA RUE SHRINE
02.00 P.M. Street Procession in Naka Village—by CHOOR SU GONG NAKA SHRINE
October 13, 2010
06.00 A.M. Street Procession in Phuket Town—-by BANG NEOW SHRINE
07.30 A.M. Street Procession in Thalang District—-by CHERNG THALAY SHRINE
08.45 A.M. Street Procession in Maikhao Village—-by GIM TSU ONG SHRINE
08.00 P.M. Fire Walking—-at BAN THA RUE SHRINE, SUI BOON TONG SHRINE, YOK KE KENG SHRINE and JANG ONG SHRINE
08.09 P.M. Fire Walking—-at JUI TUI SHRINE
09.00 P.M. Fire Walking—-at SAPAM SHRINE
October 14, 2010
07.00 A.M. Street Procession in Ban Don Village-Ban Kian Village-Ban Sakoo Village-Ban Naiyang Village-Airport-MuangMai Village—-by GIM TSU ONG SHRINE
08.00 A.M. Street Procession in Phuket Town—-by JUI TUI SHRINE
07.59 P.M. Bladed-Ladder Climbing—-at CHERNG THALAY SHRINE
08.00 P.M. Bladed-Ladder Climbing—-at BANG NEOW and LIM H TAI SU SHRINE
08.45 P.M. Bladed-Ladder Climbing—-at BANGKOO SHRINE
October 15, 2010
07.00 A.M. Street Procession in Phuket Town—-by KATHU SHRINE
06.30 P.M. Street Procession in Thalang District—-by BAN THA RUE SHRINE
08.00 P.M. Fire Walking—-at BANG NEOW, LIM HU TAI SU, and TAE GUN TAI TAE
08.00 P.M. Bladed-Ladder Climbing—-at JANG ONG SHRINE
08.09 P.M. Fire Walking—-at CHERNG THALAY SHRINE
08.30 P.M. Fire Walking—-at BASNGKOO SHRINE
October 16, 2010
07.00 A.M. Street Procession in Phuket Town—-by SUI BOON TONG SHRINE
03.00 P.M. Street Procession in Sapam and Bangkoo Village—-by BANGKOO SHRINE
03.00 P.M. Fire Walking—-by KATHU SHRINE