Browsing articles from "October, 2010"
Phuket International Boat Show spurs marine growth in Asia

Asia's wealthy fuel marine industry boom. Phuket is the marine hub of Asia.
Asia's biggest Boat Show: The Phuket International Boat Show will take place
6-9 January 2011 at Royal Phuket Marina.
29 October 2010, PHUKET – As Asia leads the world out of the global financial crisis, Phuket cements its Asian marine hub status with the hosting of the region's largest in-water boat display at the 2011 Phuket International Boat Show (PIMEX). Now in its eighth year, PIMEX will take place 6-9 January 2011 at the prestigious Royal Phuket Marina and is the place to be in Asia for boating business.
The ranks of Asia's elite continue to grow and boating is becoming the leisure pursuit of choice: Asians make up 23% of the Forbes Billionaire's list, up 16% from last year, with 234 of the total 1,011.
Almost all international boat brands and leisure marine products are represented in Asia and as the rate of growth of the Asian marine leisure industry outpaces that in the traditional markets of Europe and the United States, boat builders are positioned to tap the leisure needs of the growing elite and middle classes.
Within Asia, Phuket has positioned itself as the boating hub and PIMEX is the platform that brings together everyone with an interest in the marine lifestyle. Being the "hottest" boating market in the region and with cruising grounds to rival no other, combined with a growing expat population and second home property market, Phuket has become the playground for the region's wealthy and PIMEX is at the centre.
"PIMEX is the place to come for all things marine. Being based in Phuket, Asia's marine hub, PIMEX is well positioned to benefit from Asia's wealthy and rapidly growing middle classes," said Andy Dowden, Show Director, Informa Yacht Group.
All eyes are on Asia and its growing importance in the leisure marine world, evident in more top international yachting and boating events being hosted in Asia and a plethora of amateur regattas in the region. The recent Asia Superyacht Conference in Singapore welcomed more than 220 participants from 35 countries around the world and highlighted the enormous opportunities in Asia, promoting Asia's potential leading role in marine industry growth over the next ten years.
In Phuket alone there are three international sailing regattas, the top international boat brands are all represented, and there is a strong local boat building industry. Add to that a developed charter market and a growing number of superyachts that come through each season, and Phuket is the epicentre of nautical tourism in Asia.
"PIMEX attracts qualified visitors and has a track record of strong sales from the show. We have a great line up of exhibitors in the water and in the exhibition hall, including all the top boat brands, marine products and luxury car companies. PIMEX 2011 is set to be the biggest and best yet," added Dowden.
Boat brokers and dealerships will represent the best-known brands from around the world at the 2011 Phuket International Boat Show, including: Azimut, Bavaria Yachts, Beneteau, Benetti, Boston Whaler, Chris Craft, Crownline, Corsair Marine, Cranchi, De Birs, Fairline, Ferretti Yachts, Fontaine Pajot, Formula, Hanse, Horizon, Jeanneau, Lagoon, Majesty Yachts, Mustang, Nautor's Swan, Northrop & Johnson, Oryx, Pershing, Princess, Riviera, Sea Ray, Silvercraft, Sunseeker, Windy Boats and more. Locally built boats from Cata Thai, Composite Catamarans, Sunnav and Seat Boat will also be on display.
The 2010 Phuket International Boat Show hosted more than 85 companies and featured 35 yachts in the water, making it the biggest boat show in the region. PIMEX is THE place to do boating business and the 2011 show expects to welcome 6,000 visitors over four days, including over 2,000 trade visitors. The Phuket International Boat Show (PIMEX) is now in its eighth year and is organised by Informa Yacht Group.
For more information, www.phuketboatshow.com.
Notes to the editor
About the Informa Yacht Group
The Informa Yacht Group (IYG) is the business division that encompasses all of the yachting and boating events owned by Informa Plc. Made up of many constituent businesses which include some of the longest-standing brands in world publishing, Informa is one of the world's leading providers of information and knowledge via a wide range of media. Informa is also the largest publicly-owned organiser of exhibitions and conferences, with some 10,000 events annually in 46 countries world-wide.
IYG's mission is to become the world's leading organiser of yachting events and to provide our customers with ever more high-quality data and information, and with constantly evolving face-to-face marketing opportunities. IYG provides the yachting industry's manufacturers, suppliers and sponsors with a truly international marketing platform through a global portfolio of Superyacht and other marine-industry events: The Monaco Yacht Show; The Abu Dhabi Yacht Show; The
Superyacht Cup, Palma & Antigua; The Superyacht Cup Special Edition, London 2012; The Phuket International Boat Show; The World Yacht Racing Forum; The Yacht Racing Design & Technology Symposium; International Superyacht Coatings Conference; and Asia Superyacht Conference.

About Phuket International Boat Show
The inaugural PIMEX took place in December 2003. PIMEX 2011 is the marine and lifestyle exhibition held annually at the Royal Phuket Marina Exhibition and Conference centre with 2,500sqm of air conditioned display space adjacent to the marina basin and a new in water plan to meet demand and accommodate over 40 yachts. Now in it's eighth year, the show is the largest in-water Boat Show in the region and the most effective showcase for boating and marine leisure.
The Phuket International Boat Show is organised by Informa Yacht Group and is supported by Thailand Convention & Exhibition Bureau, with support and enthusiasm from the Sports Authority of Thailand and the Tourism Authority of Thailand. Official Supplier is HeliCam and Entertainment Sponsor is IndoChine. Headline Media Partners include Asia Pacific Boating, China Boating and LP Luxury Properties. Industry Media Partners include aBoat, Helm Superyacht Asia Pacific, Ultimate, SEA Yachting and YACHTstyle. Media Partners include 91.5FM, baccarat, Director, Prestige, International Herald Tribune, Inbound, Phuket Gazette, Tropical Living, Property Report South East Asia, IBI News and Business Report Thailand.
Media Contact
Chanut Nawnarong/ Nungruthai Julakul
Email: pr@infinity-comms.com
Tel: +66 (0) 89 512 7030/ +66 (0) 83 650 6848.
Why we love Thailand, and especially Phuket.

If you live here I am sure you have seen many times a lot of dogs and sometime toooo many people or kids on one motor cycle.
Well I just had to post this, spotted yesterday in the center of Phuket, 1 motorcycle, 1 man, 2 dogs and 2 parrots….YES 2 parrots take a look at the pictures, it's not photo shopped  or anything like that and
if you re post please give today in Phuket .com the full credit.
Thanks
91.5FM 6K Fun Run Takes to
Airwaves in Bid for Record Entries…91.5FM – Phuket Island Radio is setting the pace and burning up the airwaves with title sponsorship of the 6k Fun Run at this year's Laguna Phuket Triathlon.The radio station is promoting the 91.5FM 6K Fun Run on-air in a bid to draw a record field of more than 250 fun runners to the triathlon spectacle on Sunday 28 November, alongside an array of international triathletes and relay teams.

| | | |
| --- | --- | --- |
| | | The title sponsorship follows 91.5FM's involvement in helping attract a record number of entries and charity donations to the 5K Family Walk in this year's Laguna Phuket International Marathon."We're delighted 91.5FM has joined with us again to provide a valuable Phuket community element for our local residents and visitors," said Laguna Triathlon director Debbie DionysiusThe 91.5FM 6K Fun Run – for recreational runners able to complete the 6k course in 50 minutes or less – is held alongside the serious business of the triathlon, where super-fit competitors face a 1.8k swim, 55k bike ride and 12k run. |

Fun runners will compete for enjoyment and also for prizes to be presented by 91.5FM DJs at the end of the race. They'll be able to run alongside 91.5FM DJ "The Doris" from "The Doris in the Afternoon Show," while the 91.5FM presence also includes Breakfast Show DJ Danny O taking on the triathlon.

Both DJs are encouraging 91.5FM 6k Fun Run entries over the airwaves in the lead-up to the big day, as well as giving listeners regular updates on their training and race preparations.
On the day itself, 91.5FM will broadcast live from the Laguna Phuket Triathlon to keep everyone listening throughout Phuket and the world fully informed with event coverage and updates.
91.5FM 6K Fun Runners have to be over 12 years of age and can register before the cut-off date on 15 November at: www.goadventureasia.com


The Laguna Phuket Triathlon is Asia's premier destination triathlon, staged amid spectacular tropical scenery around Laguna Phuket. Over the past 16 years the popular race has attracted thousands of athletes as well as triathlon legends including Mark Allen, Greg Welch, Craig Alexander, Paula Newby-Fraser, Michelie Jones and Chrissie Wellington. 91.5FM – Phuket FM Radio is Phuket's No. 1 English speaking radio station broadcasting throughout Phuket on 91.5 megahertz and around the world on the internet via www.phuketfmradio.com

Sunday afternoon 13:00 – 16:00

91.5FM – Phuket Island Radio
Broadcasting 24 hours a day to everyone in Phuket and the world
The BBC News LIVE from the studios in London
Every hour on the hour.
The World Today LIVE from the BBC in London
Every morning 06:00 – 07:00
Sports World from the BBC
Saturday nights 21:00 – 00:00
Breakfast with The Watermark Group
Monday to Friday 08:00 – 12:00
Breakfast Sport with Danny O
Saturday mornings 09:00 – 12:00
The Doris in the Afternoon Show
Monday to Friday 12:00 – 16:00
Sunset Sounds
Monday to Friday 16:00 – 19:00
The Old Record Club
Monday evening 19:00 – 22:00
Club Classics
Wednesday evening 19:00 – 22:00
Kidology
Thursday evening 19:00 – 22:00
Disctraction
Sunday morning 10:00 – 12:00
Top of the Pops from the BBC
Sunday afternoon 16:00 – 17:00
Sunday Sundae
Sunday evening 17:00 – 21:00
91.5FM Nighttime Session
Every night 00:00 – 06:00

Please send you requests to
Requests: 08 9000 40 40For all other Enwuirrries:
Enquiries: 08 9000 46 64
Phuket FM Radio Co., Ltd.
39 Hasip Pee Road
Patong, Kathu,
Phuket, 83150
Thailand.

Copyright © 2010 91.5FM – Phuket FM Radio Co., Ltd. :: All Rights reserved.
Phuket is one of the few provinces where we can see most of people are wearing in white during the Vegetarian festival. This year the festival falls into October 8-16, 2010. Year after year, there are more and more participants join this festival. Those including not Phuket-born and non-Chinese Phuketians.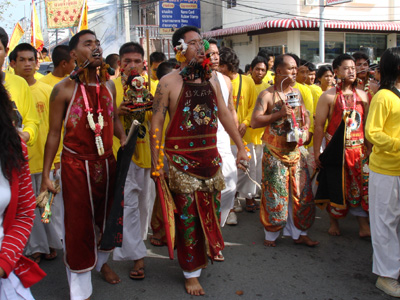 Nowhere in Thailand is the vegetarian festival more colorful, exciting, and memorable than in Phuket. The origins of this Thailand festival itself can be traced to Chinese immigrants in Phuket. In the early 1800?s, Phuket was a major center of trade between China, India, and Southeast Asia. A large number of Chinese immigrants worked in tin mines and on rubber plantations. In 1825, a traveling Chinese opera visited Phuket to entertain the Chinese immigrants. At this time, the whole town became sick with malaria. The traveling opera paused to observe a strict vegetarian diet and the Chinese Nine Emperor Gods Festival. The traveling opera all recovered from the malaria, even though many people in Phuket died. The people of Phuket were so amazed that they continue to observe this Thai vegetarian festival each year along with the Chinese Nine Emperor Gods Festival.
The Commitments
The festival always falls on the first days of the ninth Chinese lunar month, and for nine days participants observe the following commitments:
Cleanliness of the body during the festival

Clean kitchen utensils not to be used by others who do not participate in the festival

Wear white during the festival

Behave physically and mentally

Avoid eating meat

Avoid sex

Avoid alcohol

People in mourning should not participate

Pregnant women and menstruating women should not attend ceremonies
The Ceremonies
One of the most exciting aspects of the festival is the various, (and sometimes gruesome) ceremonies which are held to invoke the gods. Firewalking, body piercing and other acts of self mortification undertaken by participants acting as mediums of the gods, have become more spectacular and daring as each year goes by. Men and women puncture their cheeks with various items including knives, skewers and other household items. It is believed that the Chinese gods will protect such persons from harm, and little blood or scarring results from such mutilation acts. This is definitely not recommended for the feint hearted to witness.
The vegetarian dishes are not easily distinguished from regular dishes – soybean and protein substitute products are used to replace meat in standard Thai fare and look and taste uncannily like meat. Look for the yellow flags with red Chinese or Thai characters to find vegetarian food stalls – and keep your camera handy!! For more information on dates and events, contact the Tourism Authority of Thailand at +66 (0)7 621 2213.
Phuket Vegetarian Festival 2010  Schedule
October 7, 2010
09.00 A.M. Opening Ceremony Phuket Vegetarian Festival 2010 at Saphanhin
October 9, 2010
07.00 A.M. Street Procession in Phuket Town—-by CHOOR SU GONG NAKA SHRINE
October 10, 2010
07.00 A.M. Street Procession in Phuket Town—-by SAPAM SHRINE
October 11, 2010
07.19 A.M. Street Procession in Phuket Town—-by LIM HU TAI SU SHRINE
October 12, 2010
06.30 A.M. Street Procession in Sapam Village—-by JANG ONG SHRINE
07.15 A.M. Street Procession in Pasak Village and Baan Don Market—-by TAE GUN TAI TAE
07.30 A.M. Street Procession in Phuket Town—-by BAN THA RUE SHRINE
02.00 P.M. Street Procession in Naka Village—by CHOOR SU GONG NAKA SHRINE
October 13, 2010
06.00 A.M. Street Procession in Phuket Town—-by BANG NEOW SHRINE
07.30 A.M. Street Procession in Thalang District—-by CHERNG THALAY SHRINE
08.45 A.M. Street Procession in Maikhao Village—-by GIM TSU ONG SHRINE
08.00 P.M. Fire Walking—-at BAN THA RUE SHRINE, SUI BOON TONG SHRINE, YOK KE KENG SHRINE and JANG ONG SHRINE
08.09 P.M. Fire Walking—-at JUI TUI SHRINE
09.00 P.M. Fire Walking—-at SAPAM SHRINE
October 14, 2010
07.00 A.M. Street Procession in Ban Don Village-Ban Kian Village-Ban Sakoo Village-Ban Naiyang Village-Airport-MuangMai Village—-by GIM TSU ONG SHRINE
08.00 A.M. Street Procession in Phuket Town—-by JUI TUI SHRINE
07.59 P.M. Bladed-Ladder Climbing—-at CHERNG THALAY SHRINE
08.00 P.M. Bladed-Ladder Climbing—-at BANG NEOW and LIM H TAI SU SHRINE
08.45 P.M. Bladed-Ladder Climbing—-at BANGKOO SHRINE
October 15, 2010
07.00 A.M. Street Procession in Phuket Town—-by KATHU SHRINE
06.30 P.M. Street Procession in Thalang District—-by BAN THA RUE SHRINE
08.00 P.M. Fire Walking—-at BANG NEOW, LIM HU TAI SU, and TAE GUN TAI TAE
08.00 P.M. Bladed-Ladder Climbing—-at JANG ONG SHRINE
08.09 P.M. Fire Walking—-at CHERNG THALAY SHRINE
08.30 P.M. Fire Walking—-at BASNGKOO SHRINE
October 16, 2010
07.00 A.M. Street Procession in Phuket Town—-by SUI BOON TONG SHRINE
03.00 P.M. Street Procession in Sapam and Bangkoo Village—-by BANGKOO SHRINE
03.00 P.M. Fire Walking—-by KATHU SHRINE
| | | |
| --- | --- | --- |
| Show | | Sunset Sounds |
| | | ————————————– |
| Dj | | |
| | | ————————————– |
| Sponsor | | |
| | | ————————————– |
| Features | | Chit chat, local news, guest interviews, and everything that is going on during the night in Phuket |
| | | ————————————– |
| Music Style | | A drive-time selection of rare Soul, Funk, Jazz + the freshest new music from around the world |
| | | ————————————– |
| When | | Monday to Friday afternoons |
| | | ————————————– |
| Start Time | | 16.00 |
| | | ————————————– |
| Finish Time | | 19.00 |
| | | ————————————– |

Whether you're on your way or you've already been  Sunset Sounds with 91.5 FM is the place to be.

As the sun goes down, 91.5 FM  sets the scene with rare cuts of Soul, Funk, Jazz + the freshest new selections & best music from around the world and beyond!

A veritable menagerie of interesting guests and a unique perspective on local and global events create an aural experience unlike any other.

Keeping you up to date with the latest news headlines from the BBC studios in London on the hour, Sunset Sounds will keep you informed & educated – as well as putting a glide in your stride, some pep in your step & a dip in your hip.

An interactive experience, Sunset Sounds encourages requests via the website, through facebook and sms on: 08 9000 40 40.

Join 91.5 FM for a few Sundowners from 4 til 7pm Monday to Friday on 91.5FM Phuket Island Radio.
Doris and DannyO training